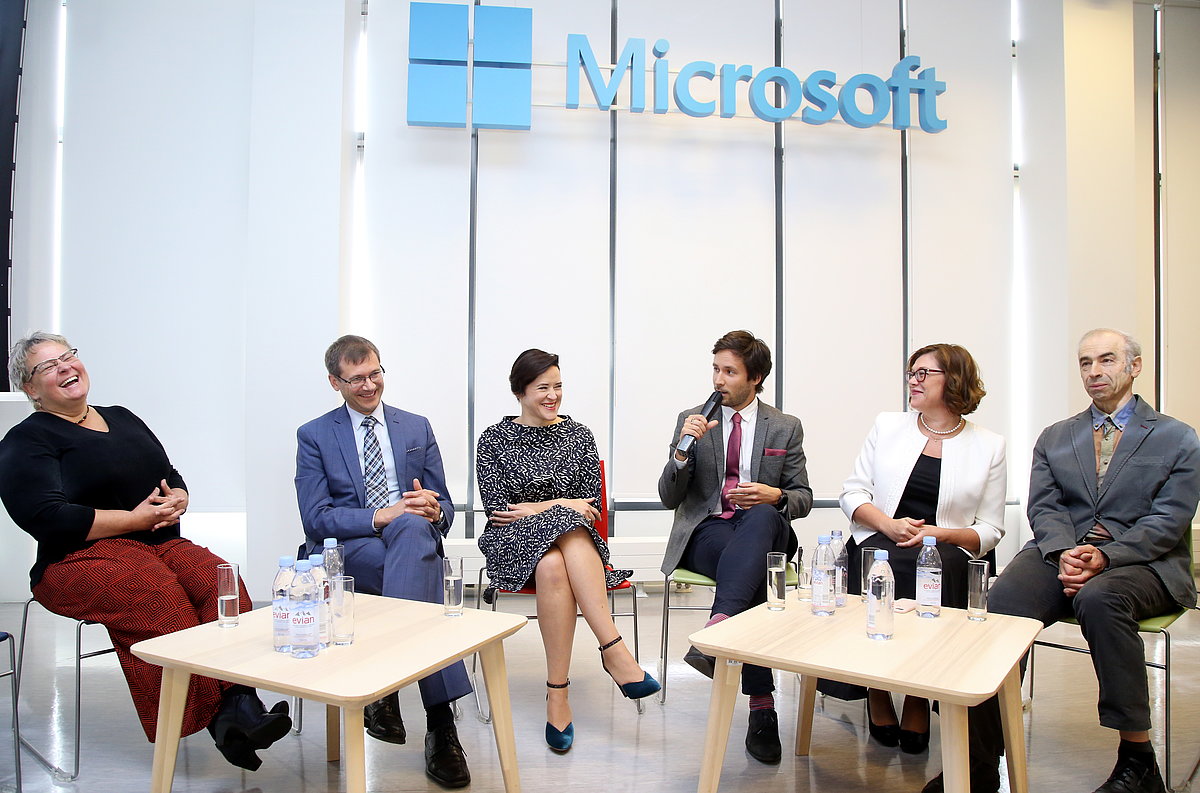 LUMIC realizē vairākas programmas: jaunuzņēmumu (start-up) atbalsta programmu, programmu jaunu digitālo prasmju attīstīšanai, lietotņu un risinājumu izstrādei un programmu digitālās transformācijas ekosistēmas attīstībai. Lai atbalstītu un sekmētu jaunuzņēmumu izaugsmi, LUMIC ir izveidojis sadarbību ar Īrijā bāzēto riska kapitāla fondu Blue Dome Capital Limited par investīciju piesaisti.
LUMIC ir vieta, kurā var satikties uzņēmēji, start-up, studenti, IT uzņēmumi un zinātnieki, lai kopīgi radītu jaunas idejas, kas balstītas uz lielajiem datiem un mākslīgo intelektu. Centrs tika izveidots 2017. gadā ar mērķi stiprināt sadarbību starp IKT nozares, zinātnes, nevalstisko organizāciju un publiskā sektora partneriem, lai īstenotu eksportspējīgu IT risinājumu attīstību un digitālo transformāciju Latvijā.
Atzīmējot centra viena gada darbības jubileju, LUMIC veidotāji pasākuma laikā aicināja partnerus uz diskusiju par lielo datu un mākslīgā intelekta iespējām Latvijas uzņēmumos un valsts pārvaldē.
"Microsoft mērķis visā pasaulē ir veicināt digitālo transformāciju un atbalstīt mūsu partnerus jaunu risinājumu izstrādē. Varu droši teikt, ka Latvija digitālās transformācijas ceļojumā iet pareizajā virzienā, un Latvijai ir lieliski ceļabiedri un atbalstītāji. LUMIC ir labs paraugs tam, kā kopīgi varam iedzīvināt inovācijas biznesā, valsts pārvaldē un sabiedrībā kopumā," norāda Anke den Audena (Anke den Ouden), Microsoft vadītāja Austrumeiropas reģionā.
Gada laikā LUMIC izveidotās inovāciju platformas ietvaros ir uzsākti vairāki projekti, kuros kopīgi strādā Latvijas un ārvalstu zinātnieki, IT un citu nozaru uzņēmumi. Viens no projektiem, kurš tika prezentēts pasākumā, ir "Datu ezera izveide savlaicīgai plaušu vēža prognozēšanai", kurā kopīgi strādā Latvijas Universitātes (LU) un Microsoft Research pētnieki.
"Jauniem, inovatīviem risinājumiem, kuru radīšanā iesaistās zinātnieki, nozaru speciālisti un IT uzņēmumi, būs izšķiroša nozīme globālās konkurences apstākļos un digitālajā ekonomikā. Gada laikā sāktās iestrādes ir spilgts piemērs tam, ka projekti, kas tiek veidoti starpnozaru partnerībā, piesaistot gan biznesa partnerus, gan pētniekus, ir interesanti arī ārvalstu partneriem," uzsver Renāte Strazdiņa, Microsoft Baltija vadītāja.
LU rektors profesors Indriķis Muižnieks saka: "Tehnoloģiju pratība ir Latvijas nākotnes konkurētspējas pamatā. Atbalsts jauniešu digitālo prasmju nostiprināšanai un to izmantošanai dažādos projektos ir arī LU prioritāte. LUMIC programmas sniedz plašas iespējas ikvienam pilnveidot savas tehnoloģiju prasmes dažādos projektos, pētniecībā un studijās."
LU rektora vietniece digitālās sabiedrības jautājumos, profesore Signe Bāliņa piebilst: "LUMIC sniedz iespēju LU studentiem un pētniekiem apgūt jaunas zināšanas, izmēģināt un pārbaudīt savas idejas, turklāt šeit ir iespēja to veikt sadarbībā ar starptautiska līmeņa ekspertiem. LU šis sadarbības projekts nozīmē universitātes reputācijas un autoritātes stiprināšanu augstskolu un uzņēmēju vidū Latvijā un pasaulē, pozicionējoties kā zinātnē balstītai universitātei."
LUMIC ir pieejams ikvienam interesentam, sniedzot iespēju piedalīties semināros, pētījumos un projektu izstrādē, sākot no idejas līdz tās īstenošanai.